Medium of Instruction
We arrange the most suitable medium of instruction for students according to their language proficiency and the Education Bureau's " Fine-tuning of Medium of Instruction". This year, there are extended English teaching activities for Junior Secondary Mathematics, Life and Society, Geography, Science, Physics, Chemistry, Biology, History, Fundamental Business, Computer Science, Visual Art, Music, and PE.
In response to the improvement of the ability of the enrolled students, English classes were offered at the Secondary Level from the 2019-2020 school year. Both Geography and Integrated Science are taught in English. Except for Chinese, Buddhist Study, Putonghua and Chinese History, other subjects have extended teaching activities in English, including teaching some topics in English, preparing English notes, and teaching subject-related topics and adding English questions to the exam, etc., will lay a good foundation for students to learn English.
In the long run, an English group for senior secondary elective subjects will be set up according to students' abilities and interests, so as to provide students with multiple choices.
Enriching English Teaching
As long as students are interested in English, they will develop their self-directed learning capabilities and other English skills, including listening, reading and writing. There are three native-speaking English teachers in BWWTC. One of them is an English teacher who specializes in teaching senior classes. The other two conduct English oral classes for secondary one to three classes and carry out activities during lunch hours to create an English-learning environment in BWWTC.
In BWWTC, the English team make good use of the out-of-classroom time and optimized the English courses by offering additional lessons to enrich English learning. Teacher-student ratio will be increased during the enrichment classes as students will be divided into seven groups according to their learning ability. They will undertake different trainings in listening, speaking, reading and writing.
The school organizes a variety of English activities, led by our weekly English Speaking Day on Mondays, which lets students learn through taking part in enriching and fun-filled events. Mostly held during lunchtime, they range from stall games, spelling contests, movie appreciation, individual speech contests, and reading aloud practice.
On our campus TV regular schedule, there are some popular English programmes. As for the teachers, many have been invited to produce a video segment titled "One-minute Chat", in which they share their own interests, hobbies or life lessons in English.
Enhancing Chinese Teaching

Both enrichment and enhancement classes are set up in junior form to cater for learning diversity.
After-school enrichment and enhancement classes are set up in senior form, which are taught by external senior teachers to improve students' Chinese proficiency.
Every form of the school set up group oral training to provide students with appropriate guidance and improve their speaking ability.
Building up a Reading Habit
As language ability is inextricably predicated on one's knowledge, broadening students' knowledge in different areas has always been our goal. To that end, the English Department and the Reading Team have launched the second phase of the 'Readers Dozen Project', a reading programme aimed at cultivating extensive reading among students. All classes up to secondary four level will get a weekly lesson on a reader with selected texts, while Form five and six students follow the programme in a self-directed manner assisted by teachers' guidance.
Teaching in line with Student's Ability
Students' learning is the focus of all school policies. They have to grow up with care and respect. The privilege of our students is that they are willing to learn and each of them has his/her unique shining points. Chinese, English, and Mathematics in junior form are taught in groups according to ability, and the curriculum and assessment are designed differently to meet the abilities and needs of the same students and improve learning effectiveness.
Catering for Different Interests of Students
There are twelve elective subjects for senior form students, and they can take two of them in combination according to their interests, including: Chinese History, Economics, Ethics and Religious, Geography, History, Tourism and Hospitality Studies, Biology, Chemistry, Physics, Business, Accounting and Financial Studies , ICT, Visual Arts. In addition, students can also enroll in Applied Learning courses.
Conducting Continuous Assessment
In addition to tests, examination, assignments, class discussions, project studies, learning attitudes, and subject activities are all included in the assessment criteria.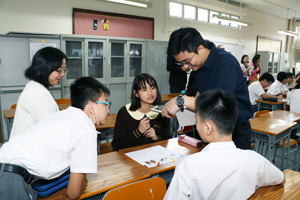 Valuing Other Learning Experiences
Starting from this year, in order to develop students' potentials, our school has added the "Dream Building Courses", which cover academics, music and sports arts, science and technology, and ability-oriented fields in order to let students develop their interests and talents.
There are ten courses in Secondary 1 and Secondary 2. Students can choose freely according to their specialties and interests: please refer to the Chinese version for the names of the courses.
The senior forms also have four "Dream Building Courses" to promote potential students and provide in-depth experience courses to lay the foundation for the next stage of study:please refer to the Chinese version for the names of the courses.
There are also high school life art subjects, including photography and video, film appreciation and commentary, fashion design, dance appreciation, guitar performance, flower art, meditation, etc.
Focusing on Teacher Professional Development
Academic affairs and student affairs participate in programs organized by Caritas Hong Kong, The Wharf (Holdings) and The Chinese University of Hong Kong to develop school-based curriculum and enhance the effectiveness of learning and teaching. Teachers are encouraged to share their teaching experiences through peer observation and evaluation so that the school and teachers can keep up with the updates of education system as well as the elevation of the quality and effectiveness of learning and teaching.